Party in the Parking Lot (7/7)
07-Jul-2018
COMING THIS JULY!
The food trucks are revving their engines once again and are getting ready to roll on over to Good Shepherd on Saturday, July 7, 2018 from 7-11 p.m. for our Party in the Parking Lot!
Fellow foodies, get your taste buds ready to dine on a feast of delectable eats. Come hungry and leave happy. Don't miss this one!
This event will take place rain or shine.
Featured Food Trucks: The Curbside Chef, Chloe's Eatery, Surf Side BBQ, Chicken Mac Truck, Loveland Dairy Whip, and The Cheesecakery. There will also be beer, wine and soft drinks and water available for purchase.
Don't miss a beat, get on your feet and dance to the music of the Naked Karate Girls, The Midwest's #1 Entertainment Band, from 8-11 p.m.
Cover Charge: $5 for those 21 and over
For Kids
To add to the fun, there will be a family friendly movie for kids showing in the main foyer on our movie screen beginning at 8 p.m. There will be popcorn, candy and juice boxes for sale.
Babysitting Available (Must Register Prior to the Event)
Cost: $5 per child
Ages: 1-5 years old
*Registration and payment required prior to event (registration and payment will not be available at the event) so that we are in compliance with the Child Protection Decree and for planning purposes. Register by clicking the "Babysitting" button below.
Downloadable Permission Slip (complete 1 per child) -
bring with when you bring you drop off your child(ren)
Permission Slip: Party in the Parking Lot Babysitting (144 KB), 06-Jun-2018
Adult & Teen Volunteers Needed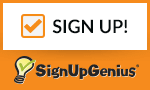 Questions? E-mail Teri Cunningham or phone her in the parish office at 489-8815 ext. 738